MARETERRA | PORTIER COVE MONACO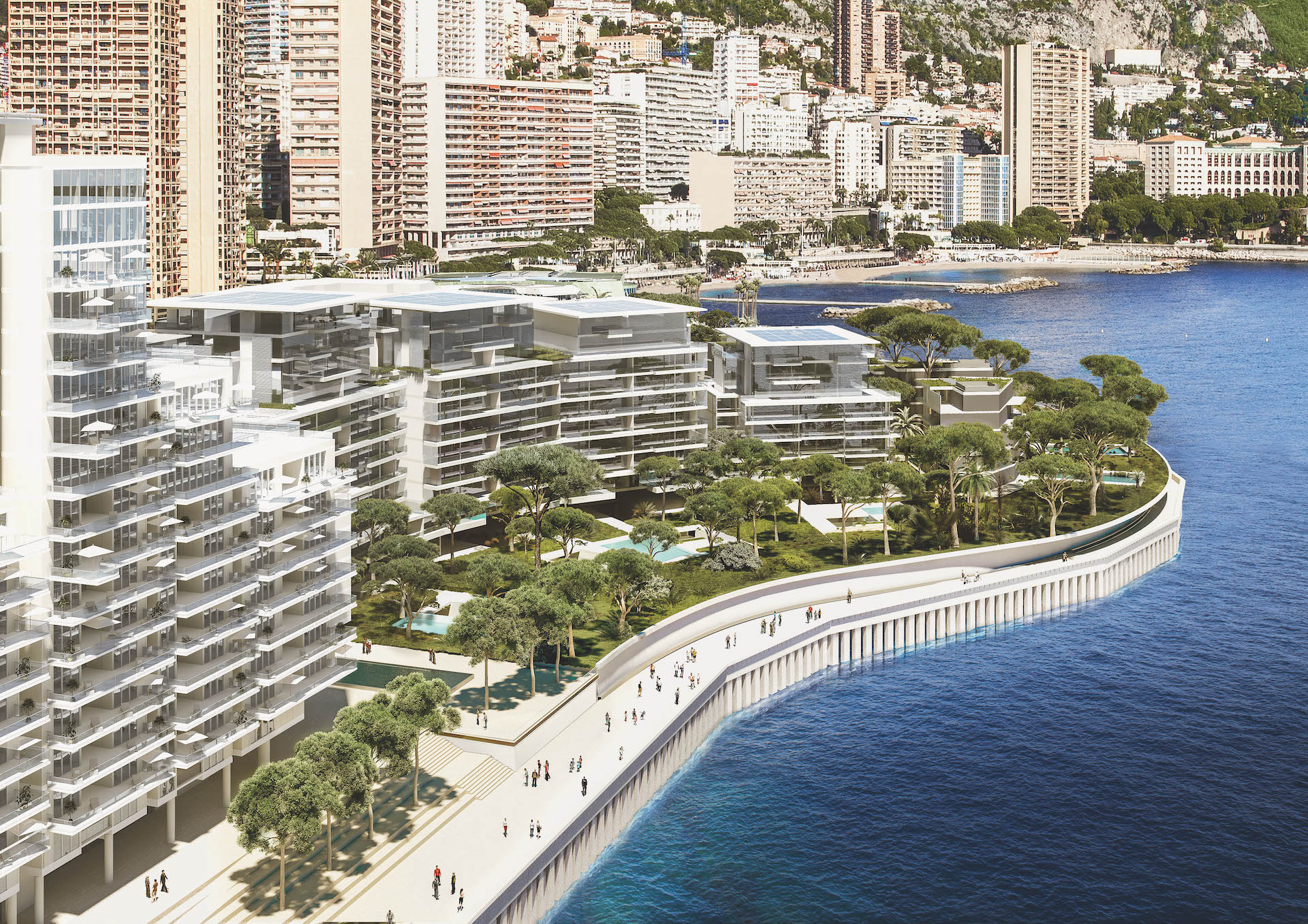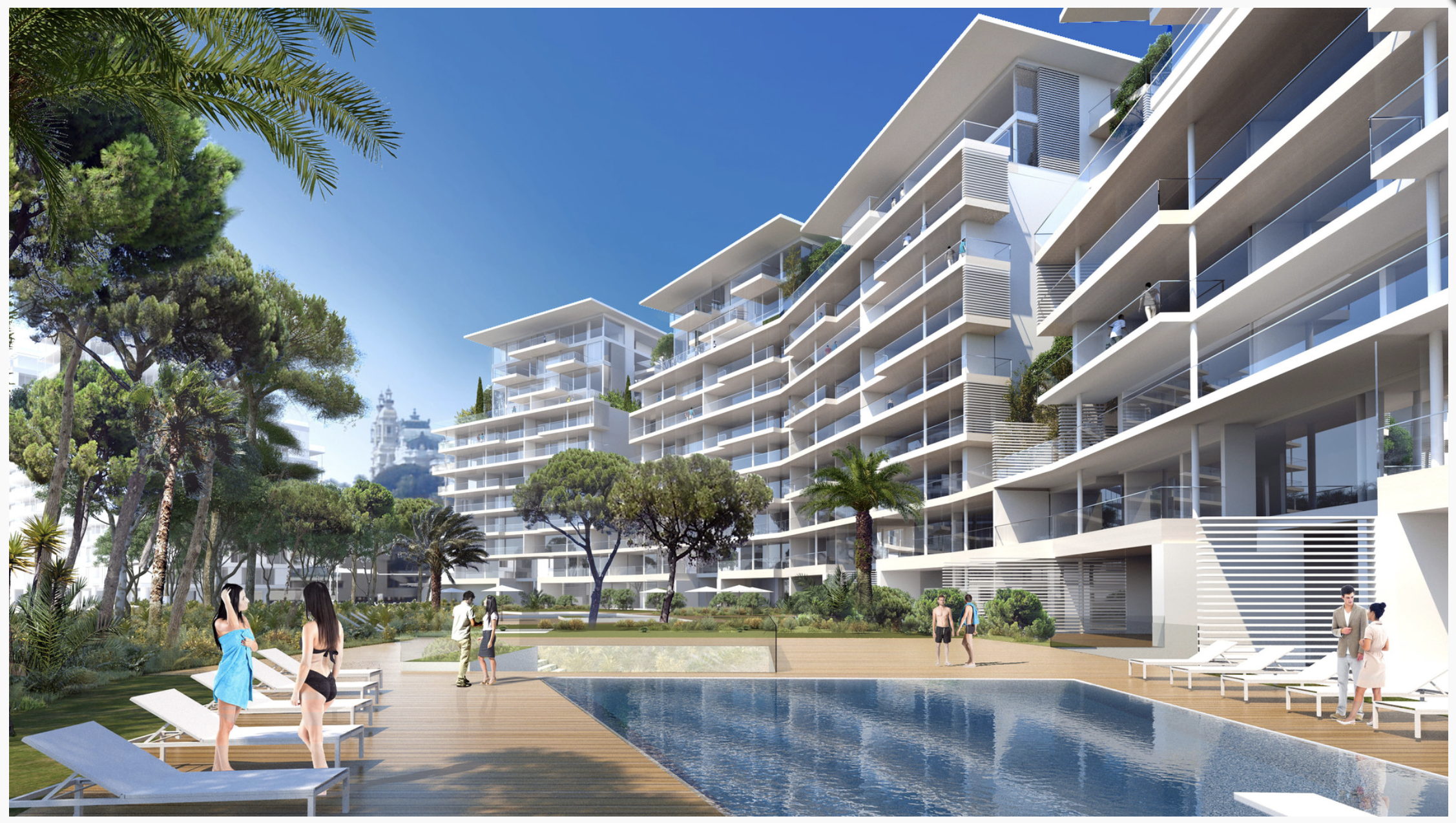 Mareterra, formerly known as Portier Cove Monaco, is a new green neighbourhood on the waterfront in Monaco. This transformative land reclamation project will be a natural extension of the principality, offering insightful investors a choice of sophisticated apartments, townhouses, penthouses, and a limited number of stunning villas.
This one of a kind development will be joined by retail offerings and green open spaces, in addition to a marina. Mareterra has been developed with the help of  designers, engineers, architects, and ecologists to set a new tone in luxury living in Monaco.
RESIDENCES
Mareterra's residential spaces include Le Renzo, Les Jardins d'Eau, Les Villas, and Les Townhouses, which total 110 apartments and 10 villas, of which six are on the waterfront.
Le Renzo offers apartments and penthouses, intelligently designed to optimise living space. The Le Renzo apartments will be light and airy, many with Mediterranean sea views. Le Renzo is situated on the westernmost edge of the district, rising above Mareterra's port and retail square.
Les Jardins d'Eau at Mareterra  has ample proportions and big balconies, allowing residents to make the most of outdoor living. The residents of these Portier Cove Monaco apartments and penthouses will also benefit from a tailored selection of amenities, including swimming pools, a fitness centre, wine cellars, hair salons, and massage rooms.
The sumptuous Les Villas at Mareterra are the natural heirs to Monaco's traditional belle epoque villas. They are ample and one of a kind, boasting a striking design and a superb mix of indoor and outdoor living areas, offering indefinite luxury with only a finite number being built.
Les Townhouses fit into their luscious green surroundings. Each townhouse at Mareterra boasts a lavish imprint and a novel interior patio that offers the perfect space for contemplation.
GREEN OPEN SPACES
At the centre of Mareterra are green open spaces created to allow residents to get closer to nature. These quiet areas will feature sumptuous native greenery, including mature trees, flowering plants, and shrubs, offering not only a space to enjoy a relaxing moment of downtime from busy day-to-day lives, but also to enjoy shade from the Mediterranean sun.
In addition, these magnificently landscaped spaces will also enable wildlife to grow, including specially installed insect hives and birds nests, helping the eco-development to be at one with nature.
Portier Cove Monaco will be mostly pedestrianised, offering a safe and healthy space for residents to roam and discover. Mareterra's gracefully curved coastline includes a pedestrianised promenade, connecting Portier Cove Monaco to the Grimaldi Forum, and from here on to Larvotto beach with its family-friendly amenities.
ECO-LOVING
The notion of sustainability is at the forefront of Mareterra, Monaco's first eco-neighbourhood. To coordinate with Prince Albert II's aim of ensuring the principality is carbon neutral by 2050, Portier Cove, Monaco uses the latest green technology. This includes solar panels that will cover 4,500 square metres, a rainwater recovery system, which will ensure 50% of rainwater is re-used, as well as thermal pumps.  Around 80% of cooling and heating will be supplied by renewable energy. This eco-neighbourhood will also encourage the use of sustainable transportation, offering 200 dedicated electric charging points and 600-metres of cycle lanes. Lastly, Mareterra comprises of four parking spaces for the principality's earth-friendly MOBEE car club.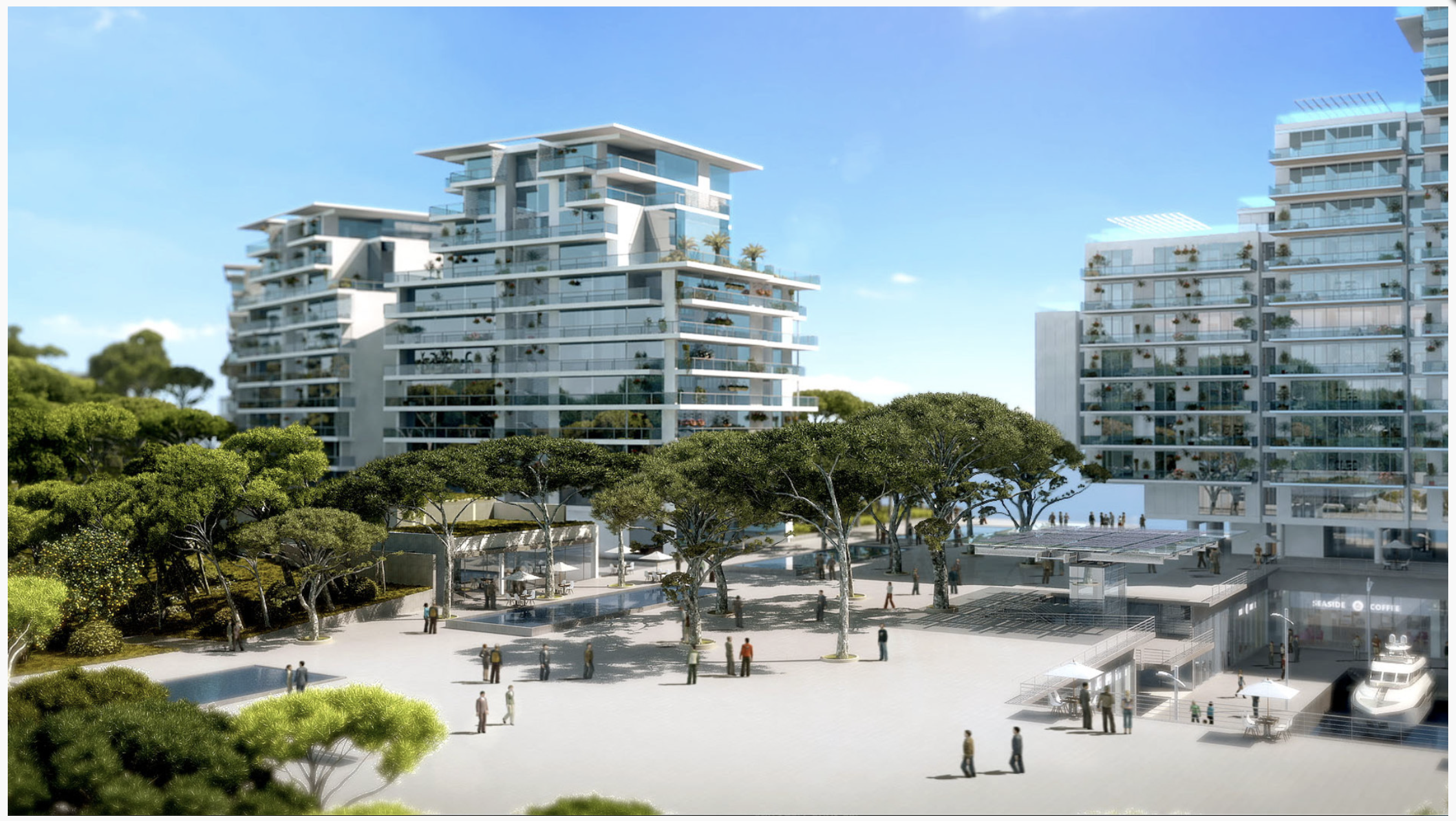 SUSTAINABLE FRAME
To add to Mareterra's eco-friendly credentials is a sustainable building movement, making sure that the neighbouring landscape is preserved. Rigorous codes are in order to preserve marine flora and fauna that encircle the development and to reduce the impact of construction on the environment. For example, marine biologists have produced man-made reefs to welcome rare species that may be impacted by the infrastructure. This includes preserving around 510 metres squared of Posidonia Oceanica, a protected type of seagrass.
AWARD-WINNING ARCHITECTS
Mareterra has been restlessly designed and developed by a group of visionaries, including award-winning architects, engineers, designers and ecologists. The two award-winning architectural firms; Valode & Pistre Architects and the Renzo Piano Building Workshop are paramount to the design of Portier Cove, Monaco. Valode & Pistre Architects was established in 1980 and is one of France's most highly valued architectural firms. Its founders, Denis Valode and Jean Pistre, are passionate about forging environments that grasp human elements with the natural world.
The Renzo Piano Building Workshop is an international architectural firm, recognised by the world for its work. The firm was founded by the Italian, Renzo Piano, one of the world's most renowned architects, known for his open and ultramodern designs. This is demonstrated on the Mareterra.
LIVELY MARINA 
The marina is designed as a central point of Mareterra, echoing the importance of ports in the principality. It will welcome around 15 berths, and its design will ensure it is a hive of activity, surrounded by shops and restaurants. The marina will offer the quintessential haven to meet with friends and family and enjoy a leisurely day shopping and dining.
COMPLETION
Mareterra Portier Cove Monaco is under construction, with the $2.4 billion development expected to be completed in 2025.
MARETERRA SUMMARY
110 apartments
10 villas
800 trees planted, spreading some 27,000 square metres.
600-metres of cycle lanes
21,000 metres-squared of pedestrianised zones
50% of rainwater will be recycled
4,500 metres squared of solar panels
200 electric charging points
Luxury and Beyond: The Mareterra Lifestyle
Securing one of the apartments or villas at Mareterra will not only ensure your place at the table of 21st-century luxury, it will also go a long way toward enabling you to secure the much-coveted resident status in Monaco.
The Benefits of Monaco Residency
Obtaining residency in Monaco provides a wealth of perks and benefits that simply aren't available elsewhere, particularly for the person of means. These benefits include:
Favourable tax system – Monaco has a long history of welcoming high-wealth individuals. Unlike most countries, the well-to-do are not punished for their success with outrageous taxes. There is no income tax, no capital gains tax, no inheritance tax and no wealth tax. 
Safety – People of means are under assault everywhere in the world today, except, most notably, in Monaco. Monaco boasts some of the lowest crime rates of any nation on earth. 
Ideal location – The other great cities of Europe are just a couple of hours away from nearby Nice Côte d'Azur Airport. If you enjoy driving you will find the great Alpine resorts only a few hours away, with the wonders of northern Italy, Switzerland and Spain all within a day's drive.
Political stability – With political strife the order of the day in many countries Monaco is a notable island of stability. The House of Grimaldi – led by the current sovereign Prince Albert II – have provided benign, visionary leadership of the Principality for more than 700 years.
A favourable climate – There is a reason the denizens of Paris and other northern cities have spent centuries escaping to the Mediterranean coast during the winter. Even in January, the average temperature in Monaco is in the mid-50s Fahrenheit. 
No paparazzi – Monaco is one of the few places in the Western world where the scourge of tabloid photographers is in check. The Monaco government has created strict laws regulating the act of photography for profit. As such, famous persons can relax and be themselves.
Monaco also offers world-class medical care, spectacular views from nearly every apartment or home, high-end shopping and, of course, the Monaco Grand Prix.